Safety is our number one priority for all lab members! 
Essential Safety Contacts
Ryan Caster
Laboratory Manager
Siegel Lab, Genome Center
University of California, Davis
rwcaster@ucdavis.edu
(530) 605-6847 - Phone
Brett Smith
Safety Officer
School of Medicine, Genome Center & Biomedical Engineering
2130A Tupper Hall
brsmith@ucdavis.edu
(530) 752-9996 office
(530) 304-0006 cell
Safety Onboarding Requirements
Part 1: UC Davis Fundamentals of Lab Safety Training (Online)
You must complete this online training before you start working in lab. The training is estimated to take about 2 hours to complete. 
If you are unable to access the Learning Management Site (LMS), which hosts the training program,  please email sdps@ucdavis.edu to request access. You will likely need to request access to the LMS system if you are an undergraduate student. If it's helpful you may use this email template or some variation: Dear SDPS Team, I am an undergraduate and am working in the Siegel Lab. I need to complete the online Fundamental of Lab Safety Training to comply with university safety requirements but I don't have access to the system. Can you assist with this? Please let me know if I can provide further information to help with the process; my student ID is ____. 
Once completed, please email Ryan Caster a copy of your Lab Safety Fundamentals Training Certificate of Completion.
Part 2: Site-Specific Safety Training (Siegel Lab Safety)
Every wet lab on campus has a site-specific safety training program that covers to the varying hazards which exist in each particular spaces and for different types of research activities. Ryan produced a video reviewing the hazards and safety interventions in our space. Our lab-specific safety documentation resources are located here (e.g. IIPP, SDS, etc.)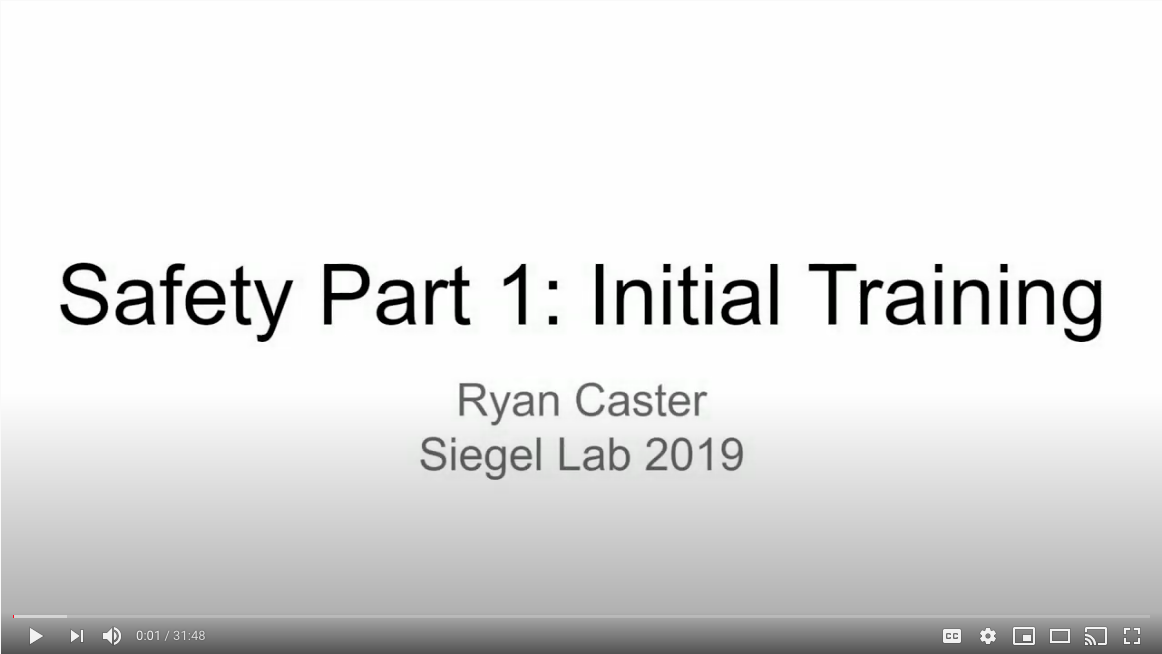 Siegel Lab Safety
This video covers all site specific safety hazards, documentation, and resources. All lab personnel are required to know the content reviewed here. 
 Please watch the video linked above and report to Ryan when completed. 
If ever there is a safety concern in the lab, please report

immediately

 to Ryan, Ashley or your BglB supervisor, and/or Justin and/or to our GBSF safety officer.