At this time we are not able to offer undergrads a wet lab experience, given COVID social distancing restrictions; our sense is that we will be able to return to the wetlab when there is a vaccine. Currently (and possibly for the remainder of the academic year), we are helping undergrads work on computational projects and we are supporting students in learning python. If this might be of interest to you, we'd be happy to talk more. Please complete the application below. 
Welcome!
We are excited to be continually expanding our undergrad researcher group! We have a structured, peer-mentored training program that is suitable for undergrads of all backgrounds, years, and majors. We do not require any prior coursework or experience. Our only requirement for admission is that you love enzymes as much as we do! 
Our undergraduate research experience progression has three sequential parts:
Application & Interviews
Design-Build-Test Training
Graduate student mentored & independent research projects
Application & Interviews
To begin to learn whether your interests and ours align, please read through our research webpage and take a peek at our recent publications. If after doing so and our lab seems like a good match from your perspective, please complete this form. We look forward to receiving your response.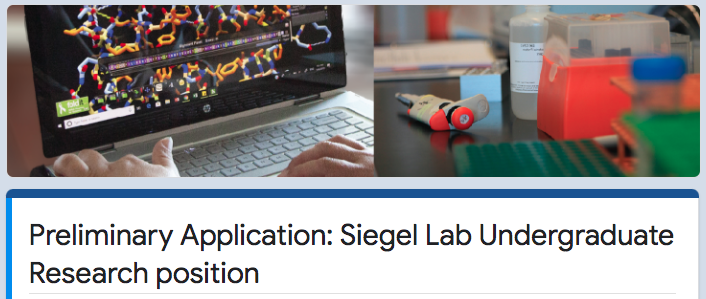 Applications are reviewed every two weeks and you should expect to hear back in no later than 2 weeks after you apply. If you have any question, please reachout to Ashley Vater.
If your application suggests that your research interests are a good match with ours, we will invite you to interview with our team. The interview process typically takes 3-6 weeks and involves two meetings. If the meeting conversations further indicate that your interests and goals are a good fit with our research activities, you will be invited to enter our training program.
Design-2-Data Training Program
While this is a training program, students should know that they are doing real research: the results are of interest to the scientific community and there are opportunities to publish your work from this project! The Design-2-Data Training Program walks incoming undergraduate researchers through the experience of computationally designing a novel mutant enzyme, building that design into a protein through molecular biology workflows, and testing the design with biochemistry assays. The training program concludes with the opportunity to write-up your results and publish in BioRxiv. Through this program, students will learn the essential skills for graduate student mentored and independent research projects in our lab. The program takes students an average of 6-9 months to complete. For some students, this timeline is surprisingly long but you learn a truly broad suite of skills and this simply takes time. Training completion times vary based on prior experience, which can sometimes translates to efficiency, but more importantly self-motivation and hours spent in lab are what really seem to determine completion times for most students. You can find out more on our D2D webpage.
Graduate Student Mentored & Independent Research Projects
After completion of the Design-2-Data training program, you will be eligible to join a graduate student mentored research project or an independent research project of your own design. These projects are typically intensive and publication-focused. You should expect to practice and hone the skills you learned while training as well as develop new skills. We will work closely and individually with you at this stage to ensure that this next step is productive and a positive experience tailored to both your needs, timeline and goals and the lab's. These projects may take as little as six months to complete or may take several years. We look forward to helping you navigate this opportunity! 
*Essential note to senior students: you may have noticed that the timeline for completion of the steps leading up to the Graduate Student Mentored & Independent Research Projects will likely take up the entirety of your senior year. From our perspective, this is okay. We are happy to have you complete just our training program if this would be of value and interest to you. Please consider how this might align with your goals and ensure that alignment is clearly and thoughtfully captured in your application.